What is is web hosting?
You may already have a domain name but, to get a website online, you need web hosting and email accounts setup so you can send and receive email. If you don't have a domain then you can search for available domains and buy on our page here: Buy domains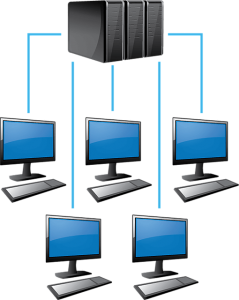 Web hosting provides a powerful computer (the web server) connected to the Internet so web users can view  your website on their device, which is usually a desktop PC, laptop, smartphone or tablet computer.
What we don't have here is racks of web servers as it's a specialist operation. The data centres we use have large racks of computers stored in a temperature controlled room connected to the Internet through fast and reliable connections.
We have a special reseller account with a major web hosting company so we can provide the best value web hosting for our clients.
This has to be done securely, and the website should load quickly as Google and other search engines rank fast loading websites higher. It also includes email addresses and storage, distribution and management of messages.
We can setup and install email accounts on all your devices, including mobiles. We can also provide those extra professional touches such as email signatures, auto-replies, out of office replies and forwarding addresses.
Although we usually manage the web hosting for our clients we can provide Control Panel access so your internal web or IT personnel also have control over your website hosting and email accounts.
Our web hosting service
Our web hosting is provided by a reseller account through a member of Hosting Europe Group, Heart Internet.
Through them, we offer reliable, fast and secure hosting which can help you through every stage of your business from cheaper shared hosting for start-ups and small to medium sized businesses through to Virtual Private Servers, Dedicated servers and Co-location for high traffic, high-uptime websites such as companies with busy e-commerce operations or streaming music and video. We can help you decide on the best option for your business to make sure you get the best return on your investment and provide excellent technical support to keep your online business flourishing.
[lambdatable id="1″]
Add on features include the following:
Virtual Private Servers (VPS) for greater speed and security
SSL certificates for secure website transactions
Premium 2GB mail boxes
Site designer
Exchange email hosting
Email SMS Notification
Email Virus Scanning
To ask about or sign up for web hosting please fill out and submit the enquiry form. Enquire about web hosting.